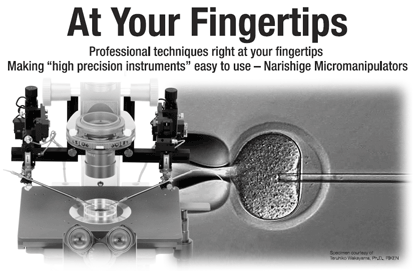 Narishige International USA, Inc. provides sales and service to customers in the United States, Canada and Latin America.
Our staff is available to assist you with information for ordering, technical questions, repairs and special orders, etc.
Please call us at 631-229-3320, or toll free at 1-800-445-7914 (within the USA). You can also email us at info@narishige-usa.com.
Neuroscience 2019 at Chicago, IL
October 20 - 23
Narishige Booth # 1073
At our booth, the staff will answer any questions you may have and/or help you choose the correct equipment for your application.
This year, we are introducing new ideas that we designed as trial products recently. Mainly we display a head-fix type stereotaxic instrument, which is optimized with locomotion wheel for awake mice. If you are looking for tools for the experiment, as well as new gizmo such as holder for optical cannula/lens, and more, meet our staff about them.
EMM2
Three-axis Motorized Micromanipulator
Movement is as smooth as hydraulic type and yet resistant to drift, which makes it perfect for patch-clamp experiment. (Former Model = EMM-3NV)
SMM series
Stereotaxic Micromanipulator
Robust stereotaxic micromanipulator with precise three-axis movement.
The SMM series is a three-axis stereotaxic micromanipulator.
The Y-axis comes standard for the Bregma-Lamda reference on Mice/Rats experiment. In addition, angle adjustment provides flexibility of the movement which is useful in avoiding the blood vessels and so on. The setting can be switched to either AP or ML direction.
The SMM series has robust design which promises a smooth and steady control whether tilted and/or holding the heavy apparatus such as motorized one-axis micromanipulator (DM system).

MTK-1
Four-axis Hanging Joystick Oil Hydraulic Micromanipulator
The optimal manipulator made specifically for handling suspension cells!
Once having been set, the innovative fan-shaped driver never fails to return to where the pipette tip should be. The newly installed knob allows a pipette to move along its axis by using a traditional and smooth oil hydraulic joystick. This manipulator will spare the laborious work of pipette alignment with the optical axis, providing more time for objective operation.
SR-9M-HT
Stereotaxic Instrument
(for chronic experiments on mice)
NEW Concept for mouse chronic experiments:
We have developed a NEW concept for stereotaxic instrument for mice. It can be used for chronic experiments and/or under the microscope.
IM-11-2 Pneumatic Microinjector
Caution:

Federal law restricts this device to sale by or on the order of a physician or practitioner licensed by the law of the State in which he practices to use or order the use of the device.
Ordering Information
How to Place an Order
In addition to purchase orders, Narishige International USA, Inc. also accepts credit card payments.
Please complete the "Credit Card Order Form", and fax it to us at 631-841-0066. A purchase order is not required for credit card orders.
Service & Repair
Repair and Overhaul Services
Our Repair Department will be able to diagnose equipment problems. Please feel free to ask questions about movement, function, drifting, etc. If you send us your equipment for repair or overhaul, we will take care of your unit and do our best to send it back to you as soon as possible.
Note: for instruments that are 10 years old or more, in most cases, the instrument has probably been discontinued. Repair fees will be higher and/or repair parts may no longer be available for these instruments. Please contact us before sending in such instruments.
Return Policy / Customers in USA / Customers in Canada / Customers in Latin America