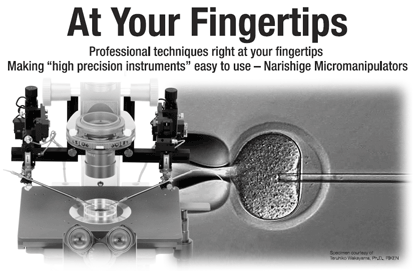 Narishige International USA, Inc. provides sales and service to customers in the United States, Canada and Latin America.
Our staff is available to assist you with information for ordering, technical questions, repairs and special orders, etc.
Please call us at 631-229-3320, or toll free at 1-800-445-7914 (within the USA). You can also email us at info@narishige-usa.com.
Narishige New York office is moving!
Effective February 1, 2016, Narishige International USA, Inc. is relocating.
Our new contact information is:
415 Bayview Avenue,
Amityville, NY 11701
Phone: 631-229-3320
Fax: 631-841-0066
The email and web addresses, along with the toll free number remain the same:
Email: info@narishige-usa.com
Web: usa.narishige-group.com
Toll Free: 800-445-7914
During this relocation, our office will be closed February 1 through 5, 2016. In case of an emergency, you can contact us by email. We will respond as quickly as possible.
Normal operations will begin on February 8, 2016.
For repair equipment
To send repair equipment, please make sure it will arrive at East Meadow location on or before January 22, 2016.
We will resume accepting repair equipment at the new location starting February 8, 2016.

MTK-1
Four-axis Hanging Joystick Oil Hydraulic Micromanipulator
The optimal manipulator made specifically for handling suspension cells!
Once having been set, the innovative fan-shaped driver never fails to return to where the pipette tip should be. The newly installed knob allows a pipette to move along its axis by using a traditional and smooth oil hydraulic joystick. This manipulator will spare the laborious work of pipette alignment with the optical axis, providing more time for objective operation.
SR-9M-HT
Stereotaxic Instrument
(for chronic experiments on mice)
NEW Concept for mouse chronic experiments:
We have developed a NEW concept for stereotaxic instrument for mice. It can be used for chronic experiments and/or under the microscope.
IM-11-2 Pneumatic Microinjector
IM-11-2A Pneumatic Microinjector (for ICSI)
Caution:

Federal law restricts this device to sale by or on the order of a physician or practitioner licensed by the law of the State in which he practices to use or order the use of the device.
New Products
EMM-3NV
Three-Axis Motorized Micromanipulator

Motorized micromanipulation system suitable for Patch Clamp experiments.

Special Page


DMA-1510/1511
One-axis Motorized Stereotaxic Micromanipulator

Special Page

Ordering Information
How to Place an Order
In addition to purchase orders, Narishige International USA, Inc. also accepts credit card payments.
Please complete the "Credit Card Order Form", and fax it to us at 631-841-0066. A purchase order is not required for credit card orders.
Service & Repair
Repair and Overhaul Services
Our Repair Department will be able to diagnose equipment problems. Please feel free to ask questions about movement, function, drifting, etc. If you send us your equipment for repair or overhaul, we will take care of your unit and do our best to send it back to you as soon as possible.
Note: for instruments that are 10 years old or more, in most cases, the instrument has probably been discontinued. Repair fees will be higher and/or repair parts may no longer be available for these instruments. Please contact us before sending in such instruments.
Return Policy / Customers in USA / Customers in Canada / Customers in Latin America